Labs64 NetLicensing Cyber Weeks Special - Enjoy a 64% Discount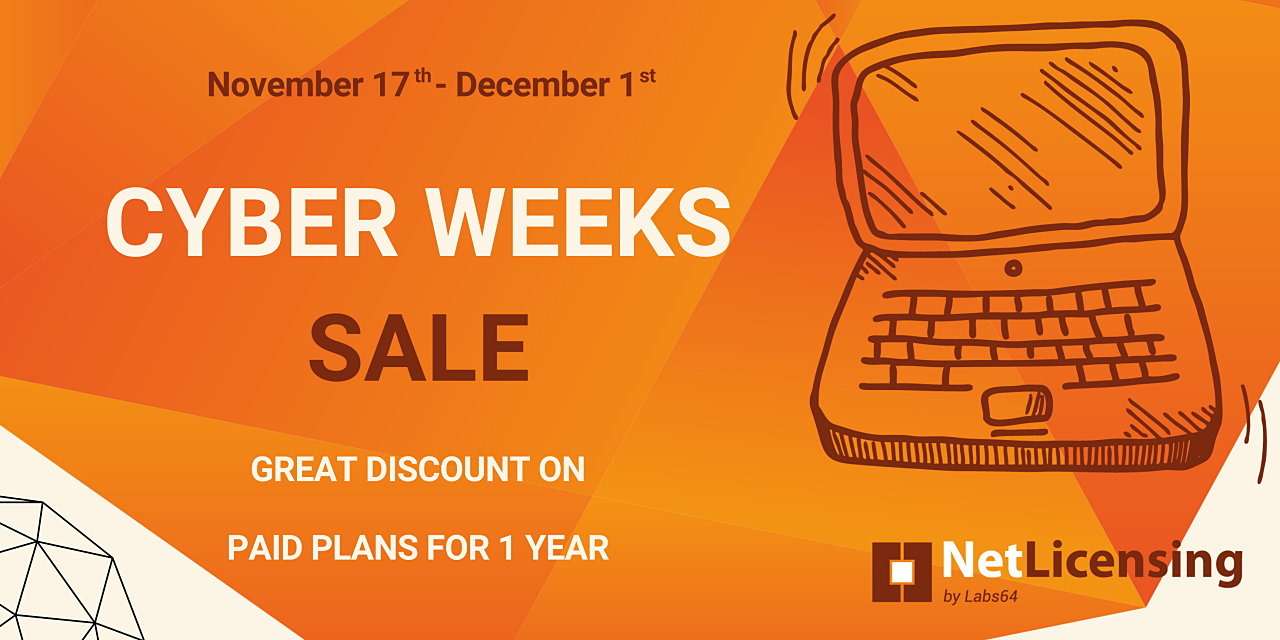 Embark on a transformative journey with Labs64 NetLicensing as we introduce our Cyber Weeks Offer, an extraordinary 14-day promotion commencing on November 17th and culminating on December 1st, 2023.
Discover the Unparalleled Power of NetLicensing!
Now is the perfect moment to elevate your digital products and services to new heights with our state-of-the-art License Management and Automation capabilities. We are thrilled to present an exclusive opportunity for you to enjoy a substantial up to 64% discount on our paid plans for the first year.
Dive Into the Details of Our Special Offer
Discount: Immerse yourself in the savings with an exceptional up to 64% OFF paid plans for the first year.
Eligibility: This extraordinary offer is open to all new NetLicensing vendors, extending its benefits to include those on the Community and Free plans.
Why Choose NetLicensing?
NetLicensing is more than just a solution; it's an empowerment tool. Take control of your licenses seamlessly and efficiently, ensuring compliance, protecting your intellectual property, and streamlining operations with our cutting-edge solutions. Elevate your software licensing strategy to new horizons.
Simple Steps to Redeem
New Vendors
Register for a NetLicensing vendor account using the exclusive code CYBER2023
Ensure registration is completed between November 17th and December 1st to unlock the full potential of the exclusive Cyber Weeks Offer
Existing Vendors on a Free or Community plans
For current vendors utilizing Free or Community plans, please reach out to the NetLicensing team for further assistance.
Don't let this extraordinary opportunity pass you by! Enhance your software licensing strategy with NetLicensing's cutting-edge technology at an unbeatable price. Join us during the Cyber Weeks and embrace the future of License Management—a future designed to empower and propel your digital endeavors!
Happy Licensing
Image Credits: NetLicensing
Related Posts